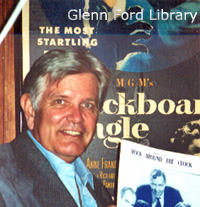 Rock Around the Clock and Me
Peter Ford, Beverly Hills, California
I've often wondered if I'd never purchased a copy of Bill Haley and His Comets' "Thirteen Women (And Only One Man in Town)" in 1954 how the history of Rock and Roll might have changed. Of course, if my dad hadn't been Glenn Ford (who was the star of the film Blackboard Jungle in which the flipside of that song was featured), it wouldn't have mattered. But I did, and he was, so I guess now the rest is just Rock and Roll history. This is my story. Rock on.
Some years ago I decided to write an article about MGM Studio's Blackboard Jungle (nominated for four Oscars at the Academy Awards in 1955) in which my father starred as teacher Richard Dadier. I had a personal connection with the film and I thought the details would be interesting. In my writing, I discussed the culture in postwar America before the production of Blackboard was received at home and abroad when it was released in March 1955. I was also looking forward to telling a bit about my participation in how the theme song of the film, "(We're Gonna) Rock Around the Clock" (or "RATC") by "Bill Haley and the Comets", was used in the film.

However, in my research in the library and on the Internet, much to my amazement I discovered that there were already a few attributions, but I believed they were in error. Because of this, I decided to excerpt and expand upon this episode from my longer story about Blackboard Jungle. Let me say at the onset, if anyone thinks they know how the song was chosen to be used in the film — they don't. This is how it really happened.

My parents were married in 1943. Each brought to the union their huge collections of record albums. My mother was dancer Eleanor Powell who starred in some of MGM's most endearing musicals, including the later Broadway Melody series. Her taste in music reflected her show business background — swing and a little blues. Many of the era's greatest musical talents who she knew and worked with were guests in our home, from Arturo Toscanini to Tommy Dorsey. My father, meanwhile, had in his collection every imaginable record from every other musical discipline from symphonic to Hawaiian to Country. Their marriage was a merger of musical tastes and, happily, I was exposed to all of it. By age seven I could identify many classical compositions, knew many of the Big Band leaders and their work, and had developed an ardent interest in music. This eclectic education was definitely a defining element in my upbringing.

We had a room in our home in Beverly Hills, California, called the China Room. It was our music room and it was there we would often retire after dinner to enjoy whatever offering was on the evening's agenda. My mother would knit, my dad would study his scripts, and we would all listen to the record player. My parents purchased this house from composer Max Steiner and the China Room had been his music room. Within in its walls he composed the scores of Gone With the Wind for MGM, The Letter and Casablanca and dozens of others for Warner Brother's among the examples of classic film music from Hollywood's Golden Age. It was the perfect place to hear music. There was an aura about that room, with its burnished gold leaf walls, deep red trim and door panels with Chinese figures painted in an oriental tableau. Today, I have many of those panels that I salvaged from a demolition crew who remolded the house after Mom sold it. They are sacred to me because of the film history they witnessed.

In the fall of 1954, I was a precocious fifth grader who loved music. Between the Beverly Hills Music Shop and Wallich's Music City at Sunset and Vine, I was a busy lad indulging myself in the thing I loved most—my music. I loved rhythm and blues or "race music" as it was formerly known in the late 1940s. One of the records I bought during the fall of 1954 was "Thirteen Women (and Only One Man in Town)", recorded by a rockabilly group called "Bill Haley and the Comets". Earlier I had purchased my first Haley record called "Crazy Man Crazy" and knew that this Haley fellow was on to something. I looked forward to their next release. When I brought "Thirteen Women" home and played it I didn't like it. As many kids did in those days, I turned the record over to discover the real A-side: "Rock Around the Clock." How Decca Records could have thought that "Thirteen Women" could have been the A-side was a mystery to me. Still, "RATC" sold well, rising to number 23 on the charts before the end of the year.

On October 4, 1954 my father was signed by MGM to star in what everyone felt was going to be a controversial film about a hot topic that was recently making news: juvenile delinquency. The film was called Blackboard Jungle. Pandro Berman was the producer and Richard Brooks was chosen to direct and write the screenplay from Evan Hunter's novel. Berman wanted to start production on the film immediately after he signed Dad, as Hunter's book was scheduled to be serialized in the Ladies Home Journal the same month. When the novel was published the previous August it caused quite a bit of controversy—so it was a "hot" property. But my father was already working on another project at the studio, Interrupted Melody, co-starring Eleanor Parker, so Berman had no choice but to wait for him. Interrupted Melody finished principal photography on Saturday, November 13, 1954. Shooting started two days later on Blackboard Jungle.
When I began my research to write an extensive article about Blackboard Jungle and started investigating information about "RATC," I was quite delighted when the Internet provided me a wonderful and insightful tribute about the song and its history written by Alex Frazer-Harrison (http://www.rockabillyhall.com/RockClockTribute.html). This article had everything one would ever want to know about Bill Haley, his Comets, and the song "Rock Around the Clock." It had everything except one thing; like every other source I found, it misidentified how the song was "discovered" and eventually used in the picture. I contacted Alex, told him what I believed to be the true story and he encouraged me to do further research to set the record straight.

There are many sources that concern the discovery of "RATC" as it applies to Blackboard Jungle. In some, including a biography of Bill Haley written by his son, John W. Haley and John Von Hoelle, called Sound and Glory, it is stated that the song was first noticed by Richard Brooks, when he heard it playing on his daughter's record player. In other versions of the tale, Pandro Berman discovered "RATC" one day by hearing it playing on his daughter's record player. Both Brooks and Berman were deceased. I was determined to find their children to ask if any of them had any direct involvement in "RATC" being used in Blackboard Jungle.

I now know that none of them did.

Richard Brooks married Harriet Levin on September 20, 1945. They had no children. I discovered Richard and his second wife, actress Jean Simmons, who he married in 1960, did indeed have a daughter, Kate, but she wasn't born until July 9, 1961 — six years after Blackboard Jungle was made. So the association of "RATC" and the director's daughter was simply not possible. I now turned to the possibility that there could be a connection to the producer's daughter.
Bill Haley and The Comets recorded "Rock Around the Clock" on April 12, 1954 and the single was released that May. James E. Myers (a.k.a. Jimmy De Knight), who is credited with co-writing "RATC" with Max C. Freedman in 1953, said that after sales slowed on that record he sent it to many producers in Hollywood, trying to generate renewed interest in the song. This could be true, but even if he did send it around, based on the films that Pandro Berman had produced until 1954 (Morning Glory, Follow the Fleet, National Velvet and Ivanhoe to name just a few), it seems unlikely that he would have been interested in a song like "RATC." However, I had to be sure and knew I had to locate his children to ask them.
Berman had three children: Michael (b. 06/03/36), Susan (b. 12/01/41) and Cynthia (b. 07/13/42). I discussed the making of Blackboard Jungle and "RATC" with each of them. Michael remembered his dad telling him just before making the film, "You won't believe what's going on in the New York City school system. I'm going to do a film that will shock you." Later, Berman played "RATC" for his children. Michael asked, "Was this written expressly for the film?" His father answered, "No, this has been out, and it was a hit." The fact that his dad brought the record home (my copy I imagine) to play for his children was confirmed when Susan, Berman's eldest daughter said, "Dad came home with 'Rock Around the Clock' and played it for us. I loved it." So, it wasn't the son or at least one of Pandro's daughters who was playing "RATC" on her record player when he first heard the song. Berman brought it home and played for them.
I now had to find the other daughter, and that took some doing. When I finally located Cynthia and asked her what she knew about how "Rock Around The Clock" got in the film, she told me, "The studio hired those two writers. You know Leiber and …?" I said, "You mean Jerry Leiber and Mike Stoller?" She said, "Yes, they're still around. They just sold their music rights recently. Call them. They'll tell you about it." Well, I had my answer. Leiber and Stoller were seminal composers and gave us much of early Rock & Roll's best music, but they had nothing to do with "RATC." I had now confirmed that it wasn't the director or the producer's daughters who first heard the music. It was my recording of "RATC" that Pandro Berman later heard at his home.
Richard Brooks and my father would meet away from MGM during production to discuss the film. Working on a short schedule with no rehearsals with mainly non-actors was a test for everyone. Richard stopped by our house on occasion to visit Dad and talk about the production. It was on one of these visits that Richard heard some of my records. One of them was "Rock Around the Clock." I now know that
he borrowed that record and some others on one of his visits.
Joel Freeman, who was the assistant director on the film, recalled that toward the end of production, which would have been mid-December 1954, Brooks called him into his office to hear some records that he thought might possibly be used in the opening of the film. He played Joel three songs and they agreed that Haley's up-tempo "jump blues" tune was the perfect choice for inclusion the film. I recently asked Joel what the other songs were but he couldn't remember. My guess would be that in addition to "RATC" they could have been Big Joe Turner's version of "Shake Rattle and Roll" and quite possibly "All Night Long" by the Joe Houston Orchestra.
MGM eventually purchased the rights to "RATC" for $5,000 from Decca Records with the condition that they could only use the music three times in the film. It has been written that for $2,500 more they could have owned the song outright. The producer of Haley's recording, Milt Gabler, once claimed that MGM bought the song for a dollar.
Brooks, having found what he wanted, would now also use the music in the beginning of the film over the opening credits as well as at the end. Since MGM had paid for another opportunity to use the song the music department at the studio cleverly used strains and riffs from "RATC" intermixed with some jazz music during the fight scene between Dadier and his fellow teacher Josh Edwards against the gang of juvenile delinquents who attacked them in an alley.
What I knew and wanted to relate before I began writing my article on Blackboard Jungle was my experience at first hearing "RATC" in the film. It was this memory that made me suspicious of all those other claims and attributions that I discovered when I began my research.

This is what happened: as an early tenth birthday surprise, my father asked me if I'd like to go to the Encino Theatre in the San Fernando Valley to see Blackboard Jungle. It was Wednesday night, February 2, a night I'll never forget. It was a preview - the first showing of the film to the general public. Dad knew that I would like it and told me to expect to hear "that song" somewhere during the film. All Dad knew at the time was that the studio's music editor had laid in a music track for the first time and that "my song" was going to be in the film somewhere.

We snuck into the back of the theatre along with Mr. Berman and Mr. Brooks just before the film began. The theater grew dark, and I remember very clearly my thoughts as the first scene opened on the empty blackboard as the credits rolled by: Wow! Not only were they playing "Rock Around the Clock," the song that Dad had borrowed from my record collection and given to Mr. Brooks, but it was so loud —just like I played it at home. It was wonderful! I liked the film too, of course, but it was the music that I remember most. There couldn't have been a happier kid in the whole world at that moment than me.
"(We're Gonna) Rock Around the Clock" was the first rock song ever to be used in a motion picture. I recently asked Evan Hunter what he thought about "RATC" being used in the film. He said, "Terrific! It started the film off with a bang. Kids were getting up and dancing in the aisles. Every kid in America went to see that film. They were carrying copies of the paperback book in the back pocket of their jeans." And dance they did, and caused some mischief too.

Teenagers — misunderstood, lonely and rebellious — had discovered a touchstone with which they could identify. Teens at that time had been islands unto themselves, unaware that thousands of others were just like them. In celebrating "RATC," they became united, powerful and their spirit of unbridled freedom changed the culture of America forever.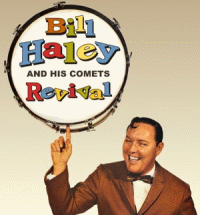 By July 5, 1955, seven months after Richard Brooks first heard my 78-rpm copy of the record at my house, "RATC" was the top selling single in the nation. It stayed on the charts for eight weeks, eventually selling more than 25 million copies.
After a good deal of research, I now feel that I can say with certainty that I played a small, but pivotal role, in launching a musical revolution. Thanks to a unique set of circumstances, the musical passion of a fifth grader helped "RATC" become, as Dick Clark called it, "The National Anthem of Rock and Roll."
Peter Ford
Go to this address to read more about the Comets